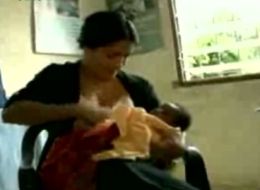 Salma Hayek Breastfeeds African Baby
I've never been a big Salma Hayek fan, but I'm not gonna pretend like this ain't hot.
But regardless of the celebrity hotness factor, communal breastfeeding also provides babies with the antibodies necessary to provide immunity to a broader range of diseases. It is still practiced in parts of the Philippines and other parts of the developing world. Interestingly, wet-nursing and communal breastfeeding are making a slight comeback in the Western world, as mentioned in this
Time article
.
Now if only Angelina, Katie,
et aliae
would follow Salma's example and demonstrate the benefits of communal breastfeeding in the developing world...