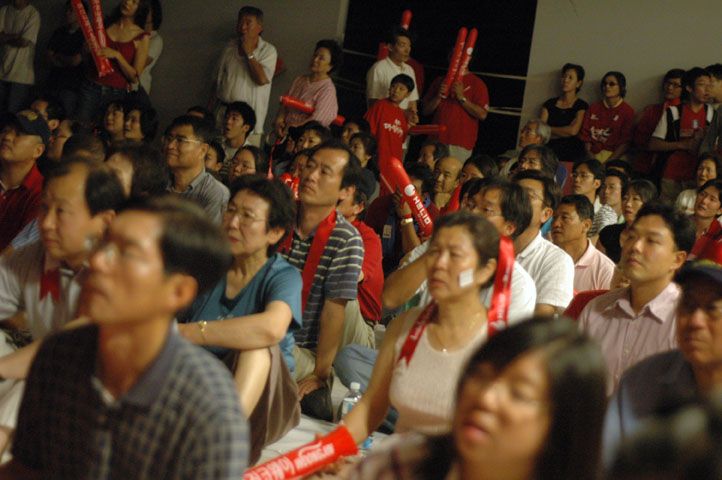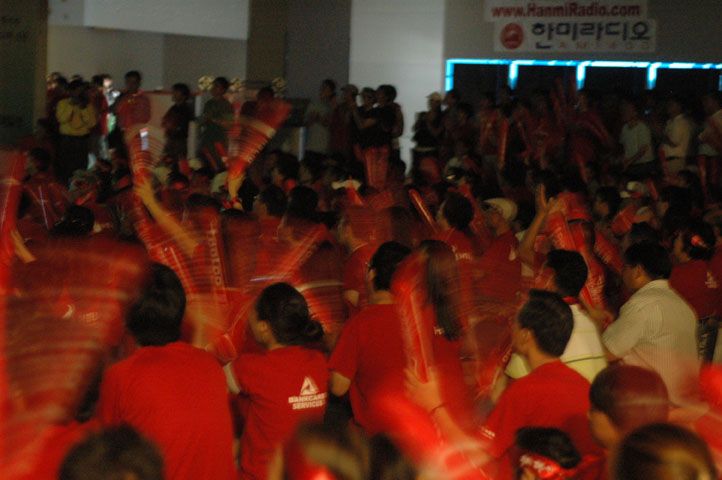 Switzerland 2, Korea 0 :(
And so Korea's run in the World Cup ends, and so does the madness at the empty Korean grocery store. The unofficial South Bay Korean WC party was filled at lunch time today for its decisive game vs. Switzerland. The atmosphere was what soccer fans hoped for: loud and INTO IT. Lots more families and kids. More drummers. Face paint. Dancers. Even Poppa Large made the scene,
so hopefully he'll post some pics
(does that guy ever NOT have a camera?)
Alas, it was a good run for the Red Devils but disappointing too. At times it felt like watching a continuous loop of reactive playing: "From the defense, clear the ball to the wing man, wing man does fancy step over moves, plays it back to midfield, send ball into the center where it's headed/cleared out. Repeat." They had a few good chances--mostly on free kicks and set plays--but were stymied. I selfishly thought that Korea HAD to score a goal to give all these people who were wasting man hours on a Friday afternoon something to shout about.
But that's the yin and yang of the cup. The Swiss triumph and Koreans lose. That's OK. They'll get theirs vs. Spain in the quarterfinals. Fabregas! Torres! Puyol! Xavi!
Pilseung Espana!
SD